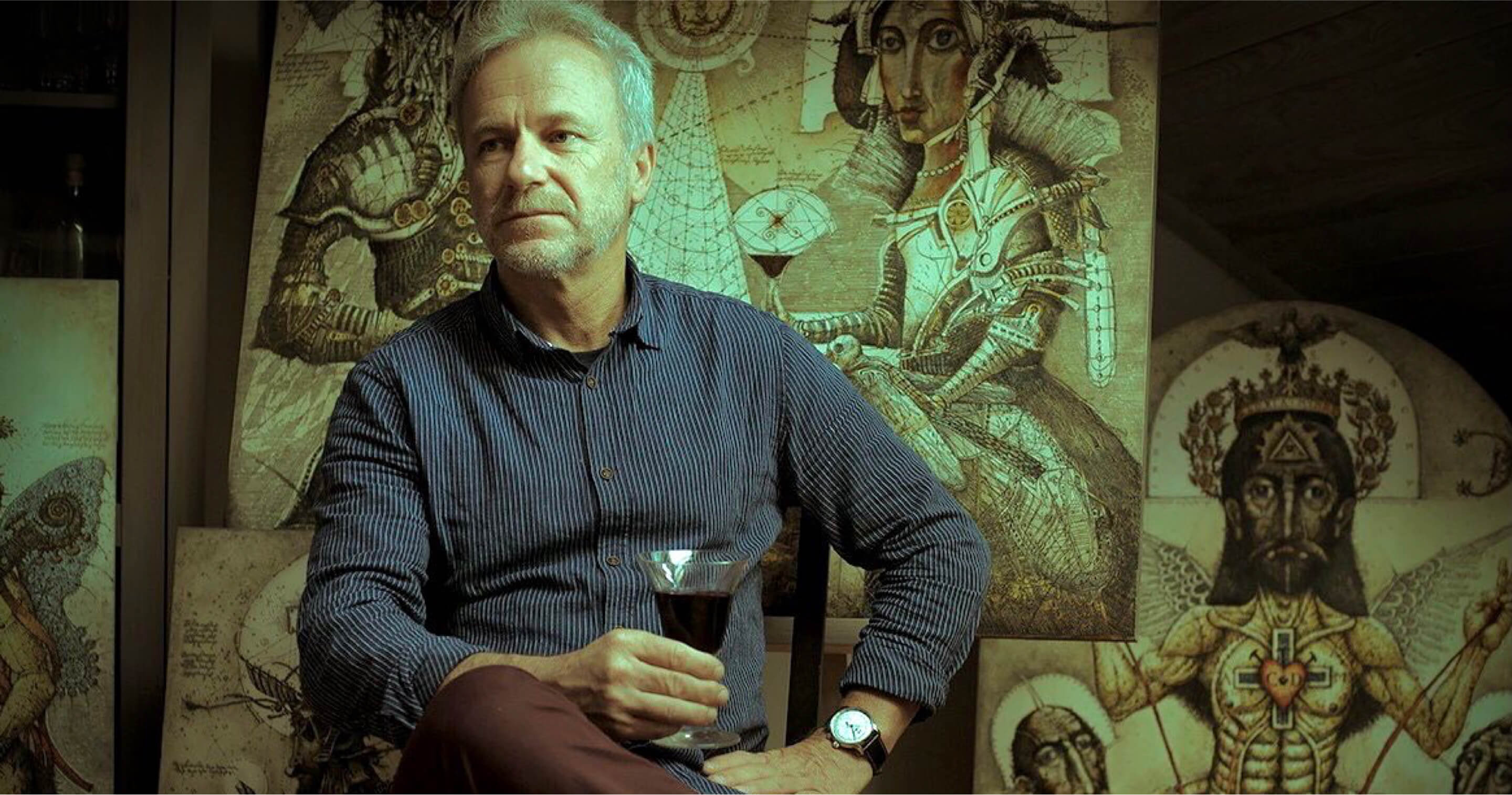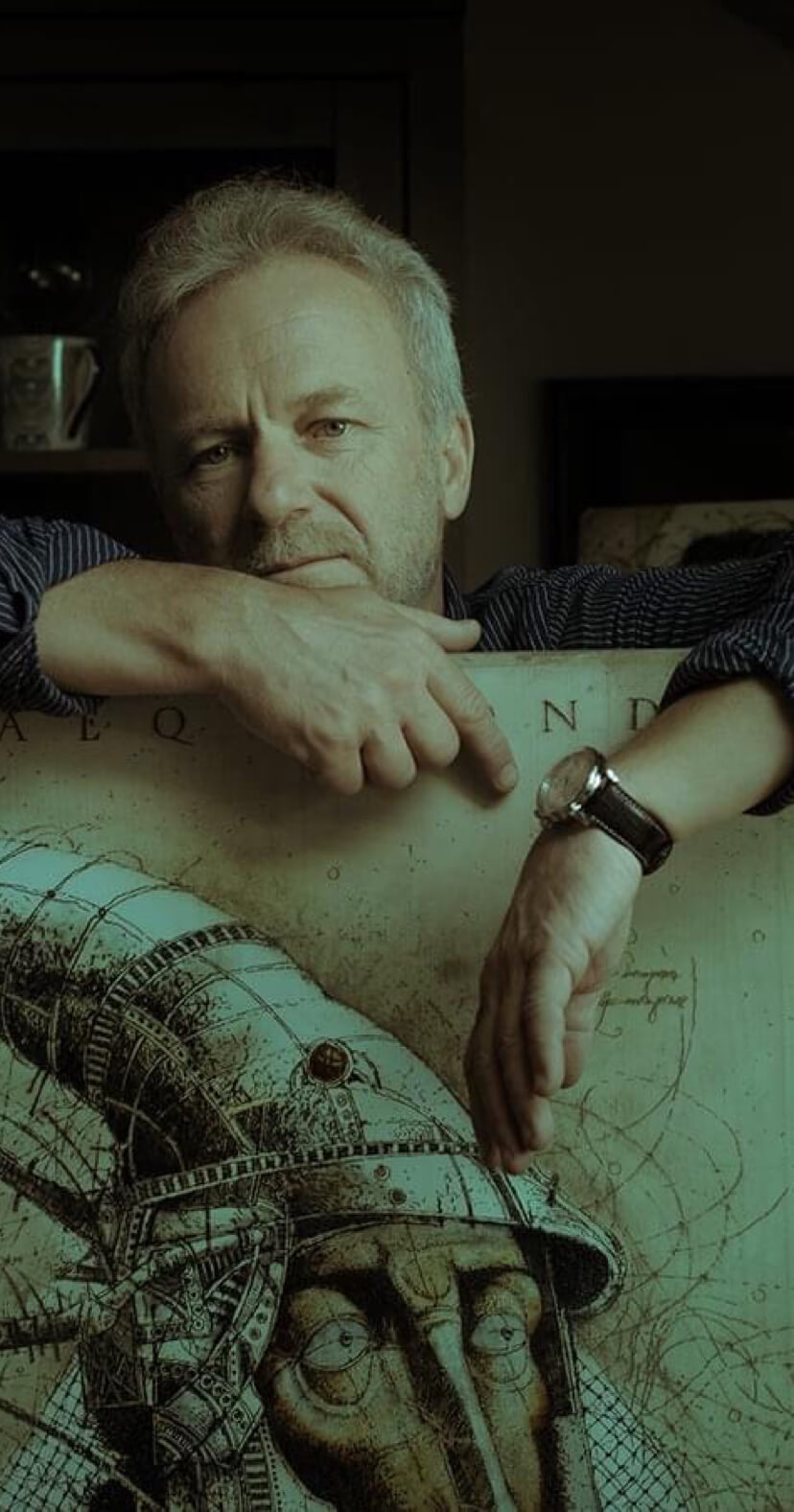 GESSOGRAPHY
AS A UNIQUE
ARTISTIC GENRE,
GESSOGRAPHY
BECAME THE
QUINTESSENTIAL COMPONENT

OF OLEH DENYSENKO'S ART
SUCCESS THAT TURNED INTO CHALLENGE
Oleh Denysenko, the creator of ANTIQVITAS NOVA, started his journey into the world of art from intaglio, particularly from etching.
Having reached a worldwide recognition, Oleh Denysenko became the leading representative of Ukraine in the global art arena in the field of contemporary intaglio.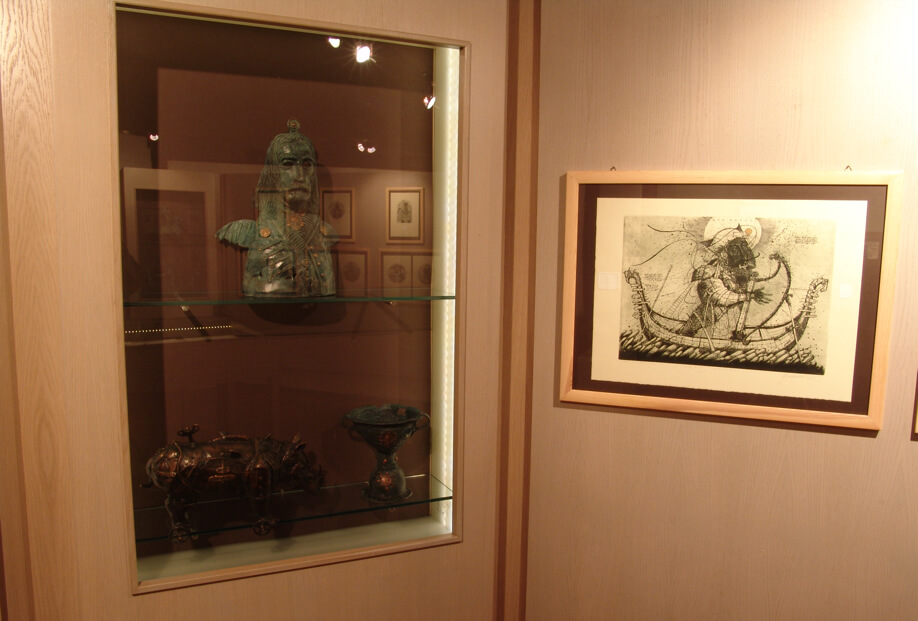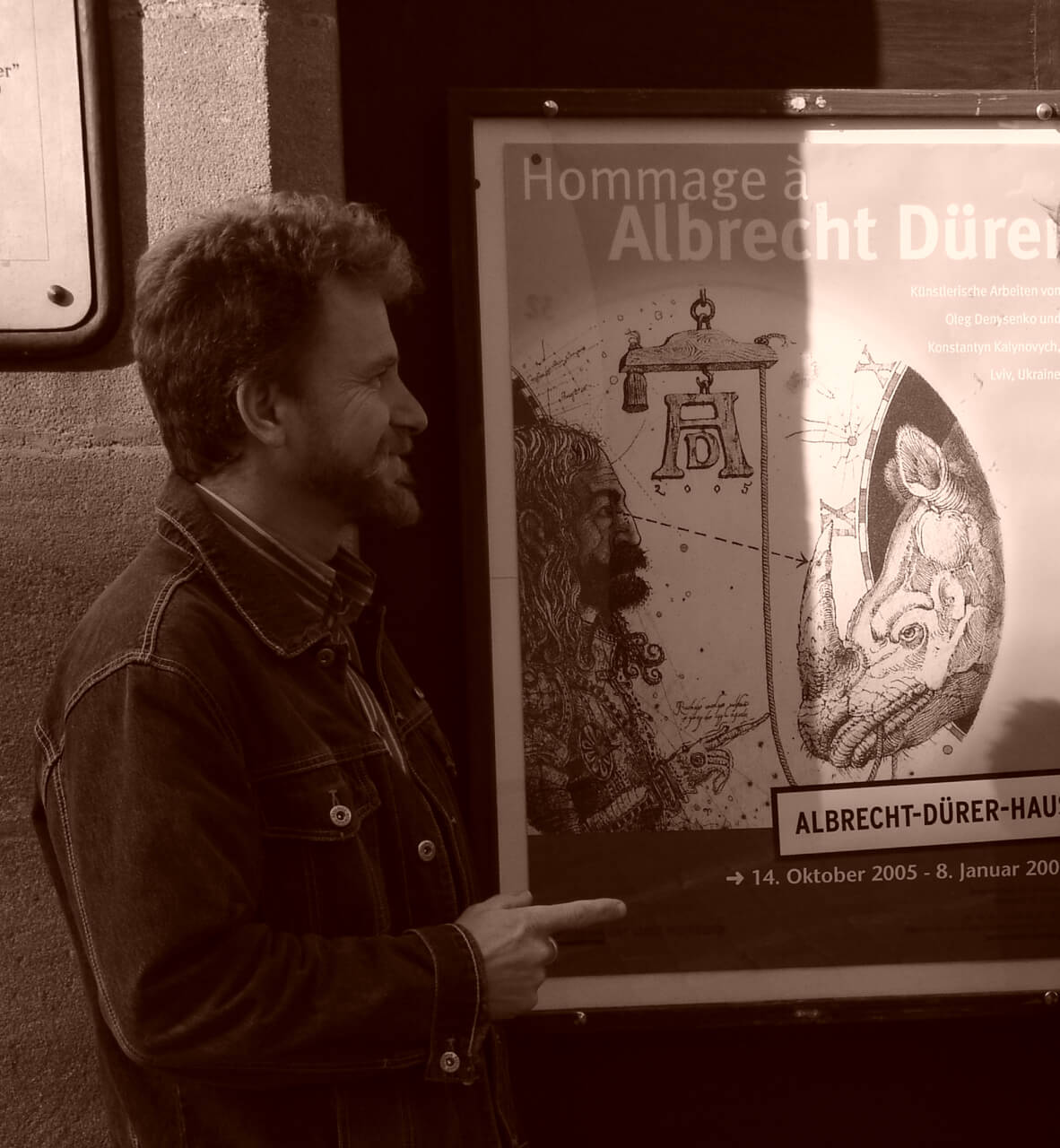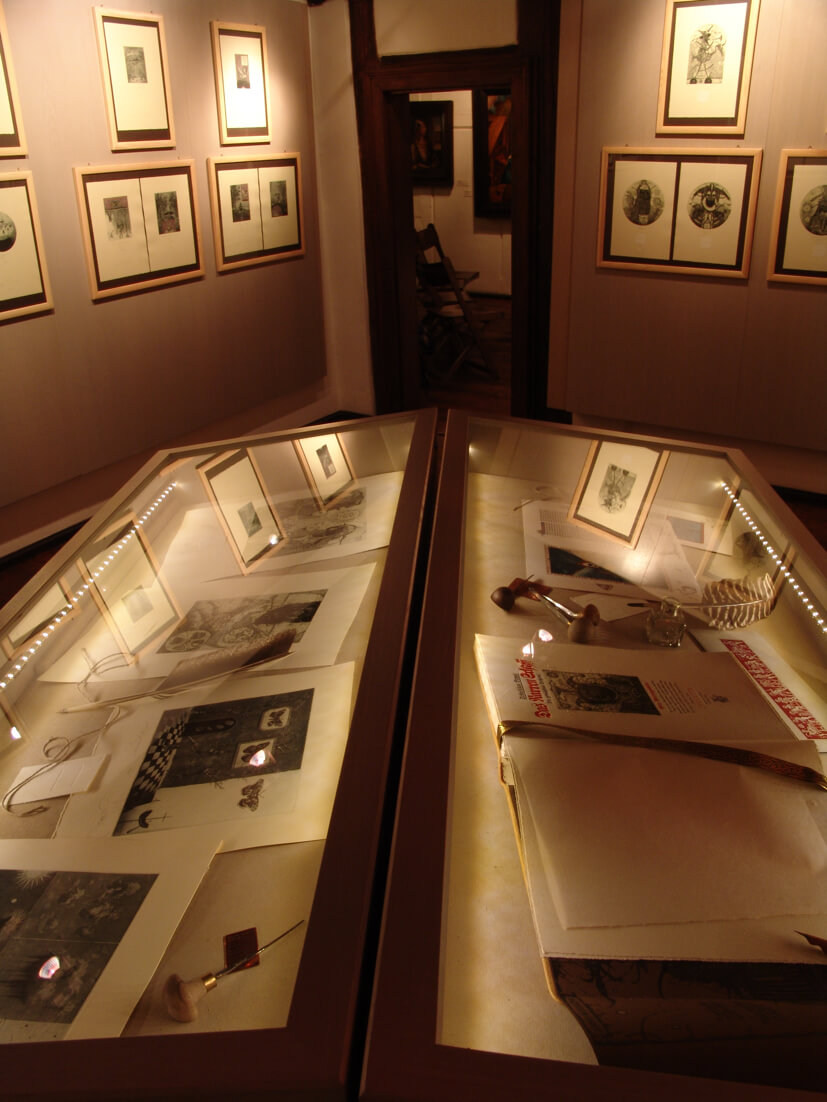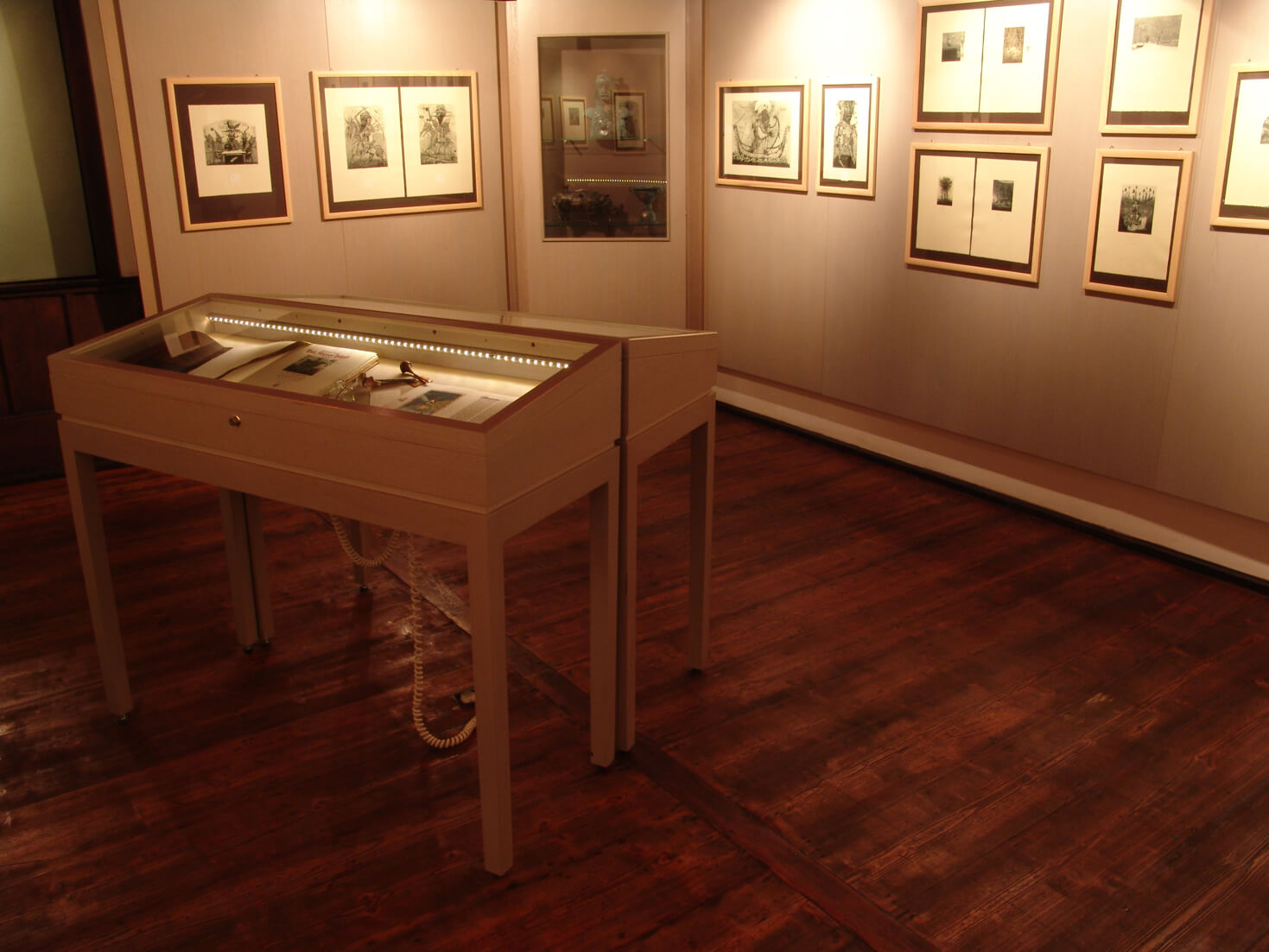 Oleh Denysenko's personal exhibition in the museum of "the father of intaglio", Albrecht Dürer, was a great success. It also became a source of inner doubt. "Don't I just repeat what has been already done five centuries ago?" After all, etching had existed virtually unchanged since the times of the great Nuremberg master!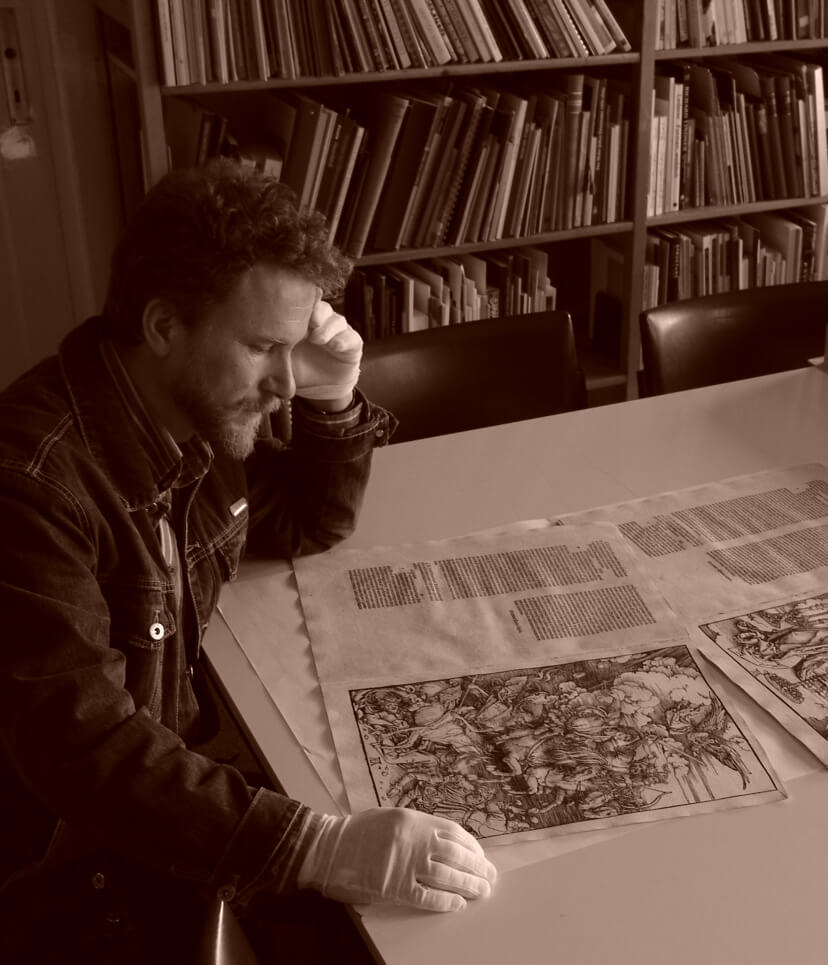 DA VINCI INSTEAD OF DÜRER
Oleh Denysenko was always fascinated with the age of Renaissance and its most prominent figure, Leonardo da Vinci. Taking the famous Renaissance man as his role model, Oleh Denysenko widened the scope of his work by exploring the possibilities of a number of different genres and techniques.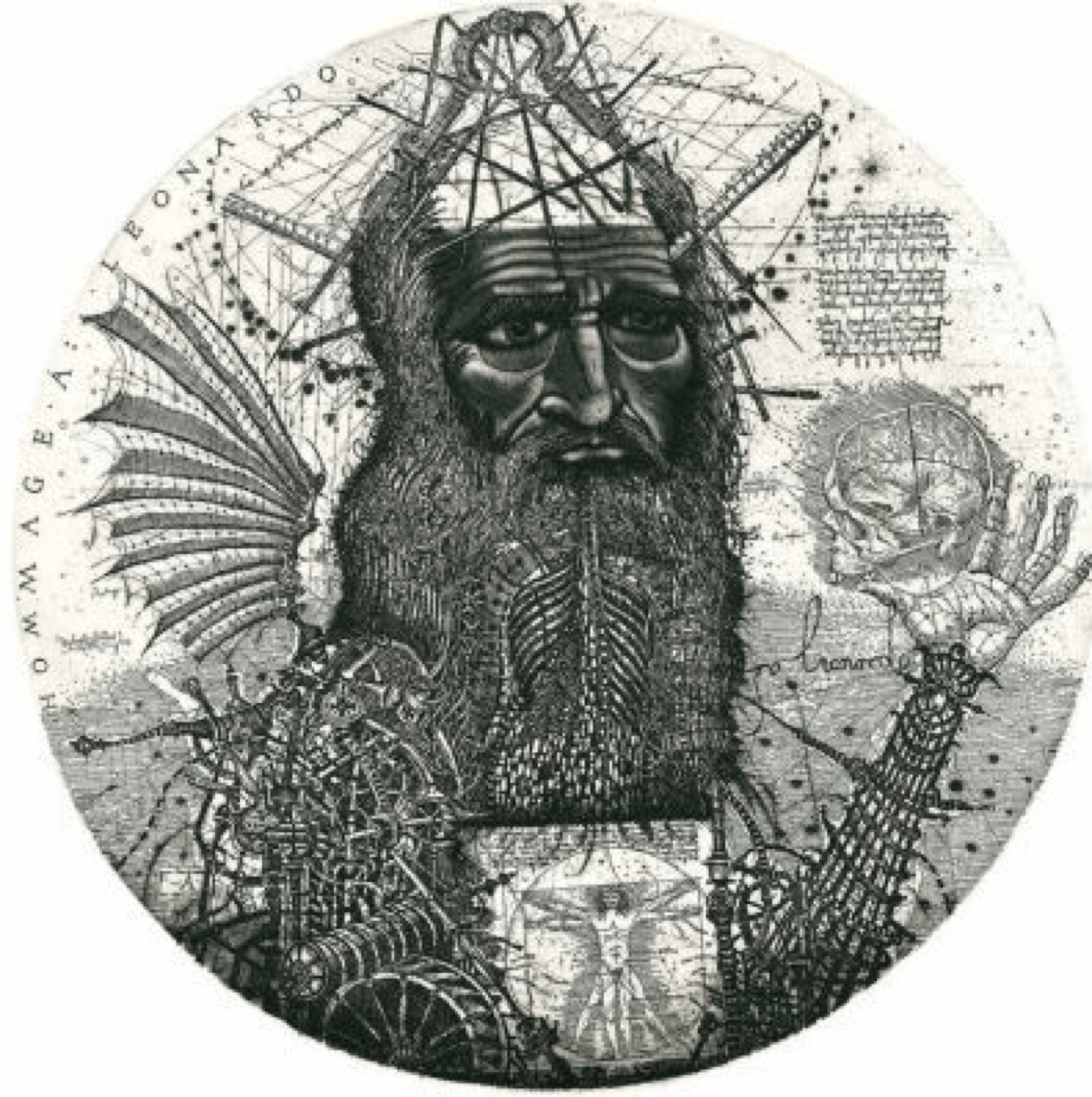 SEARCHING FOR THE RENAISSANCE
Oleh Denysenko worked in several directions.
His sculptures — patina-covered shapes of the glorious past — are true finds of spiritual archeology.
Oleh Denysenko's intaglios abound with mysterious signs and symbols narrating parables on perennial themes.
Oleh Denysenko's levkases, through their color and illumination, enlighten the beholder with spiritual radiance of Byzantine iconography and the sublime emotions of Renaissance paintings.
Levkases became a true proving ground for Oleh Denysenko's creative experiments.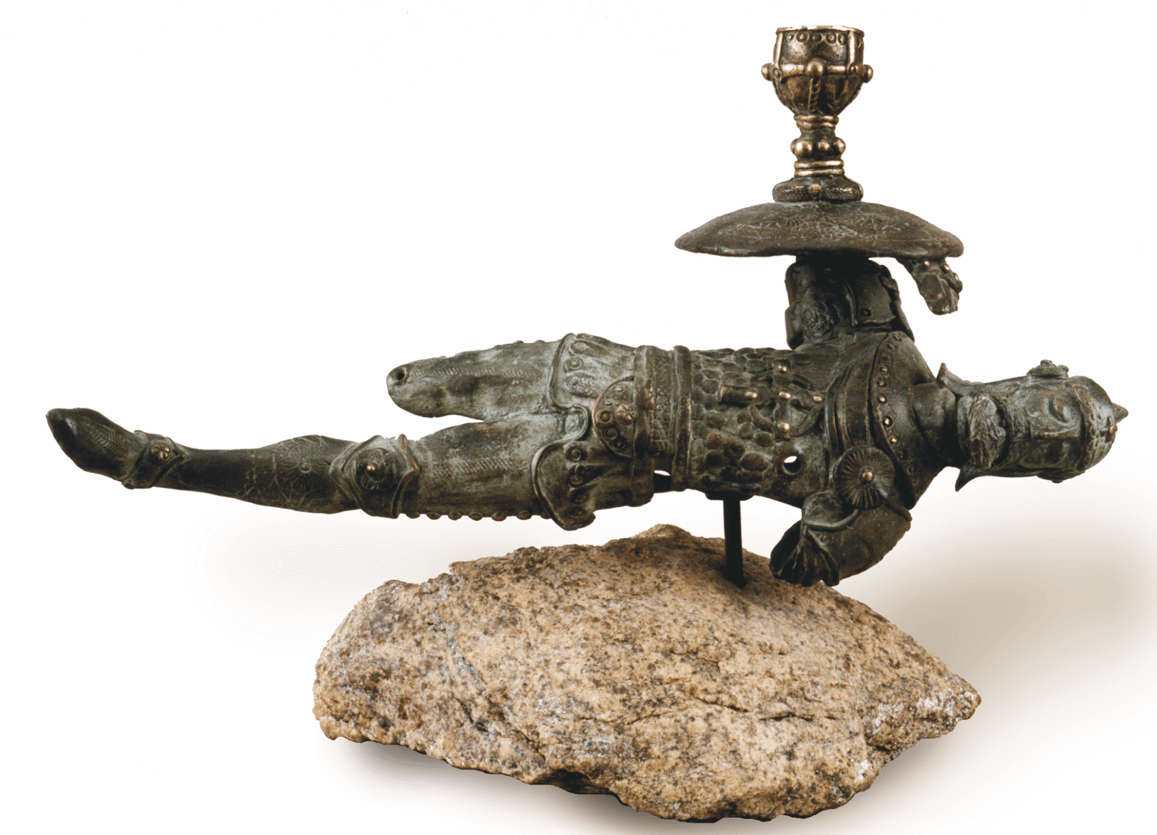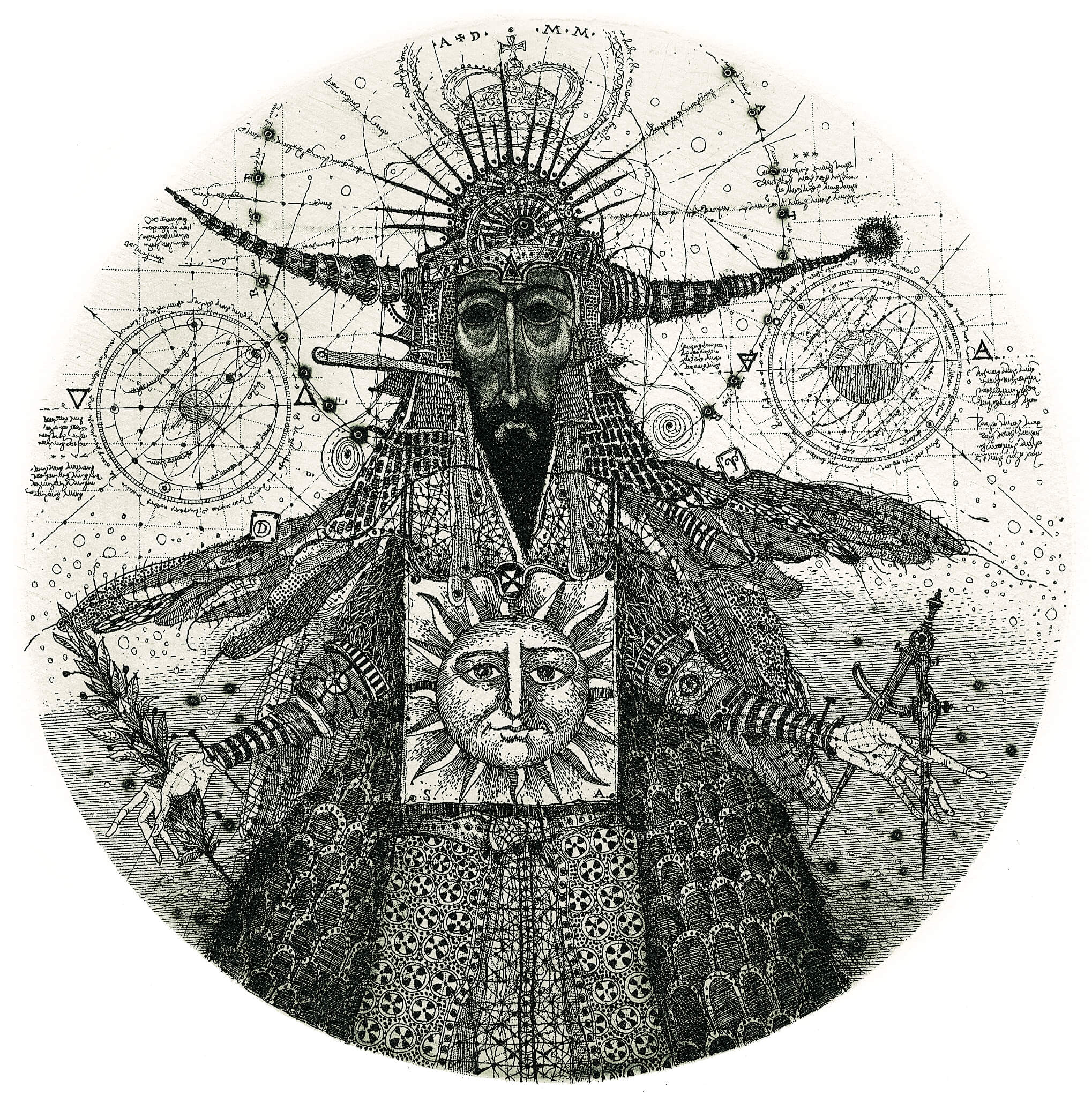 THE RENAISSANCE IS NOT ENOUGH
Oleh Denysenko's new variety of multi-genre works was met, yet again, with a resounding acclaim worldwide. Nevertheless, he did not feel himself a new da Vinci. He was just a well-known artist working in various genres. That was not enough.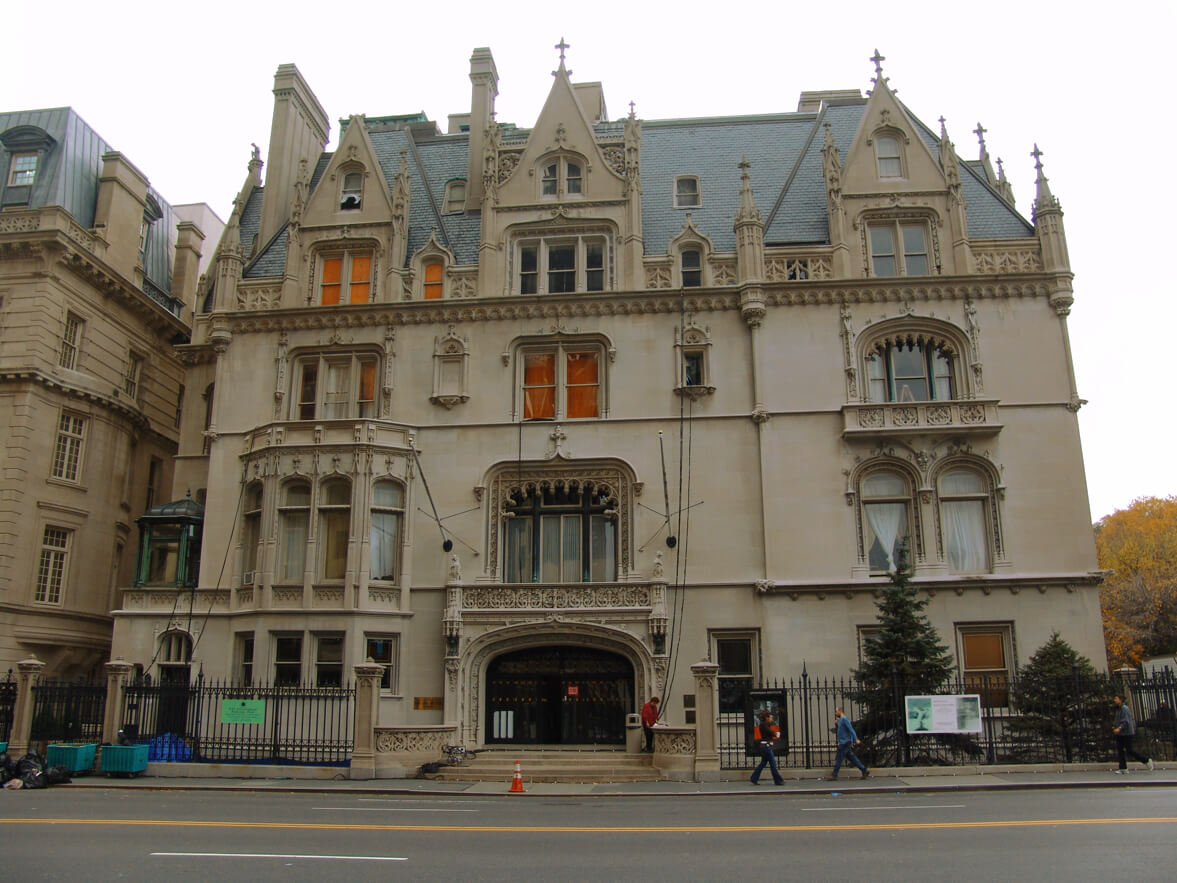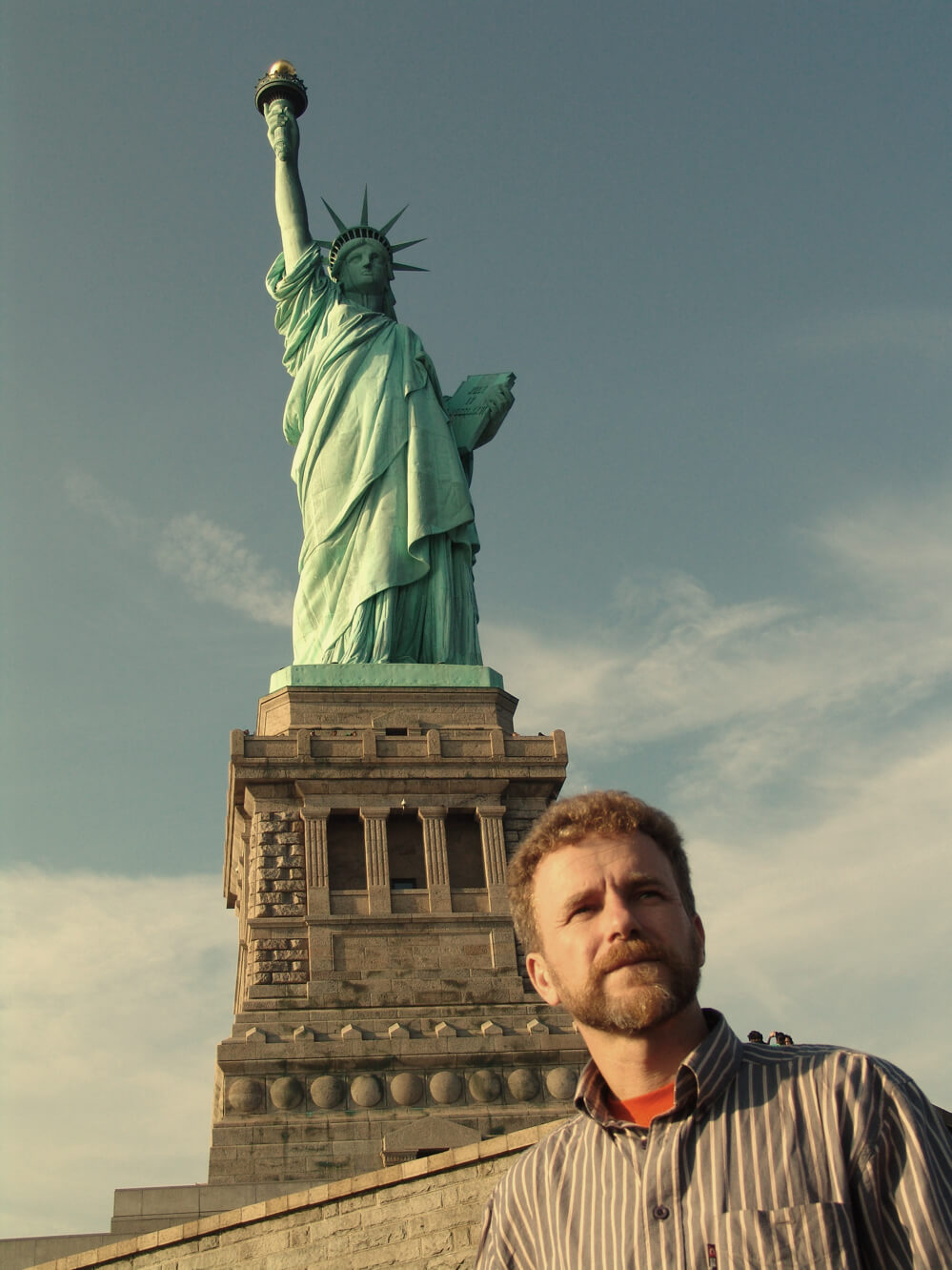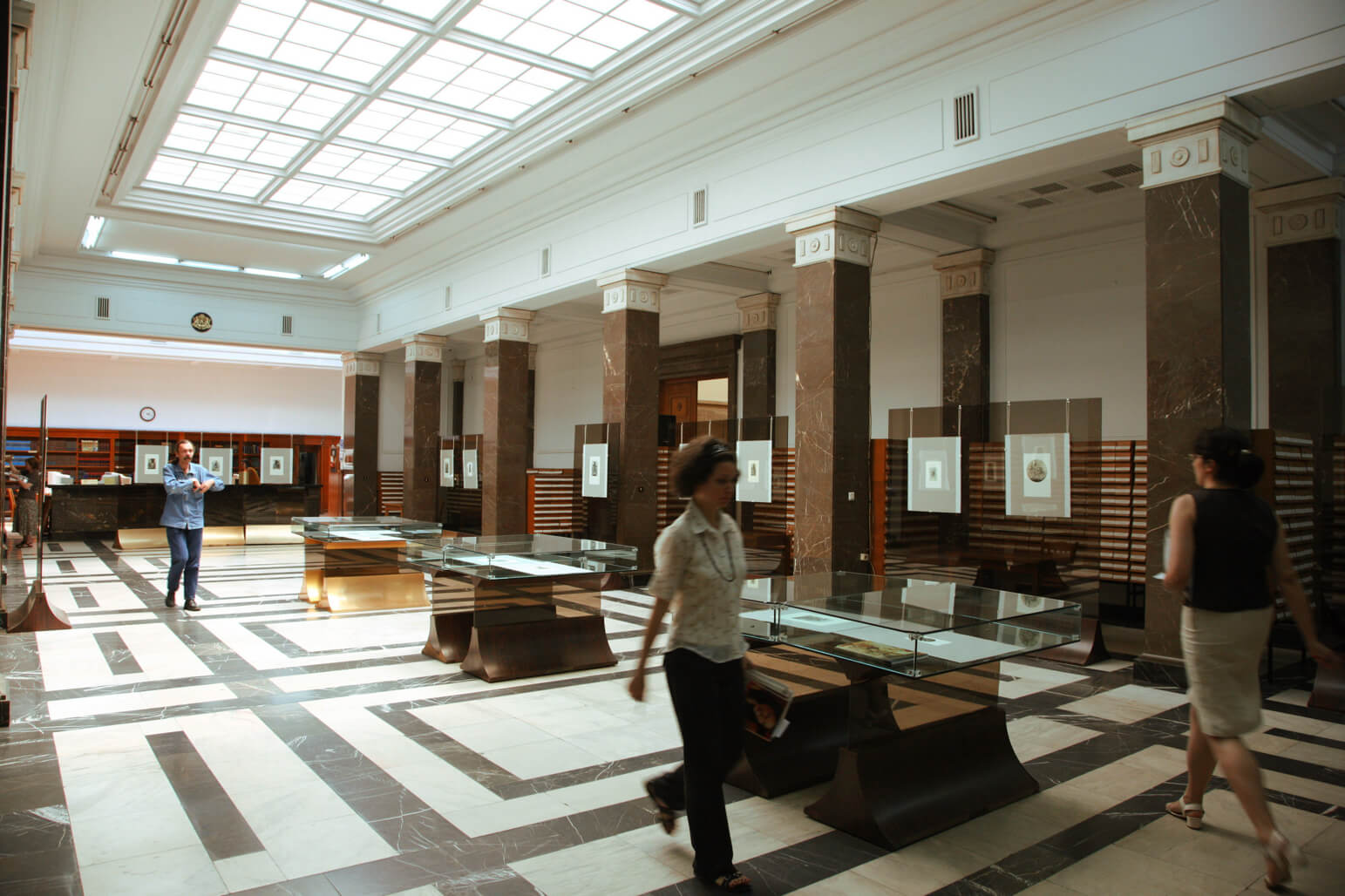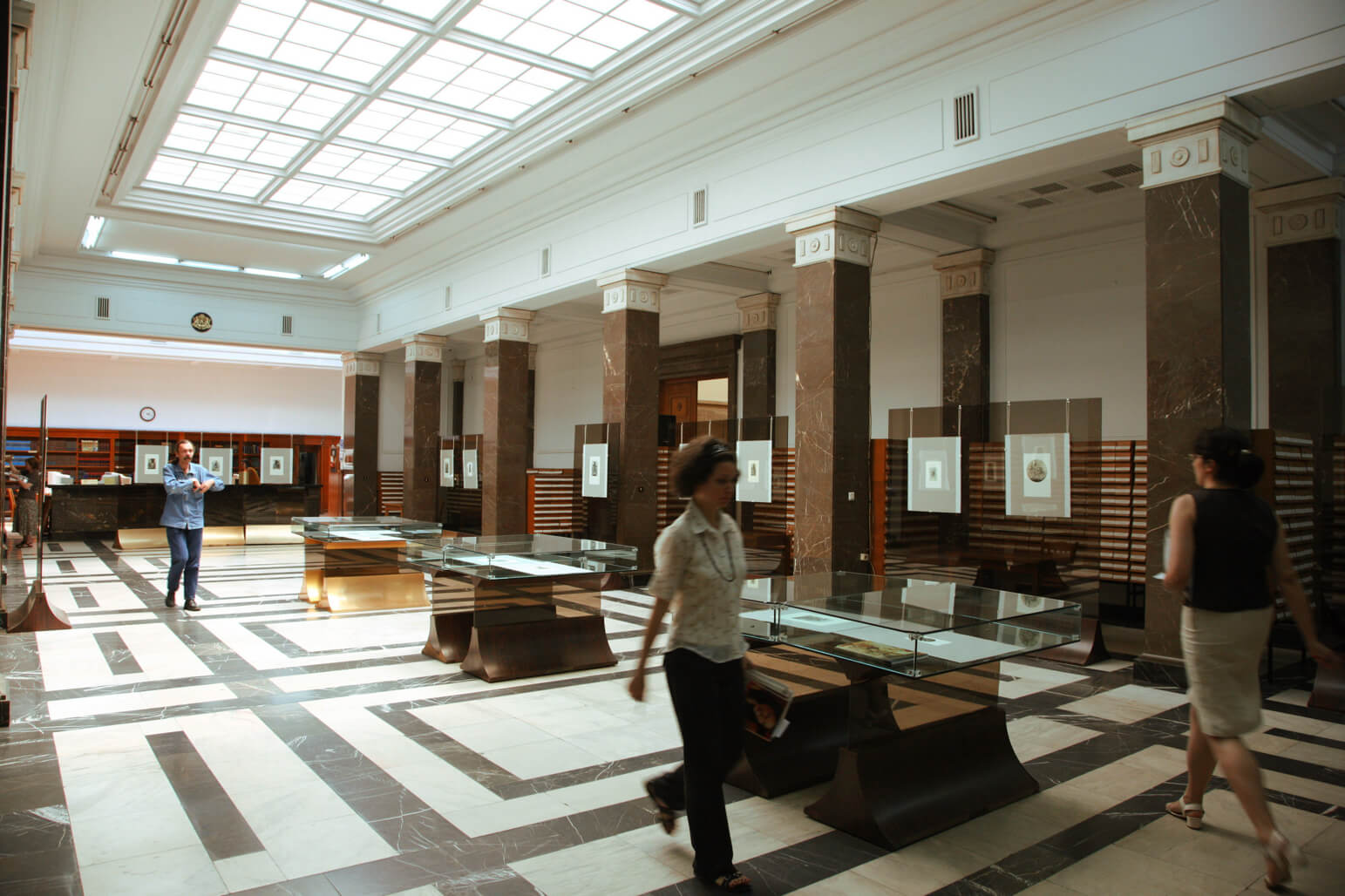 SACRILIGE?
The feeling of disappointment was exacerbated by acid remarks from fellow Ukrainian artists. In the spirit of the parochialism typical of post-Soviet artistic circles, they accused Oleh Denysenko in "encroaching upon a neighbour's field".
"You specialize in intaglio; what business do you have painting and sculpting? And what sort of strange experiments are you doing with levkases? How appropriate is it to use the traditional material of the sacred art to depict those bizarre fantasies of yours?"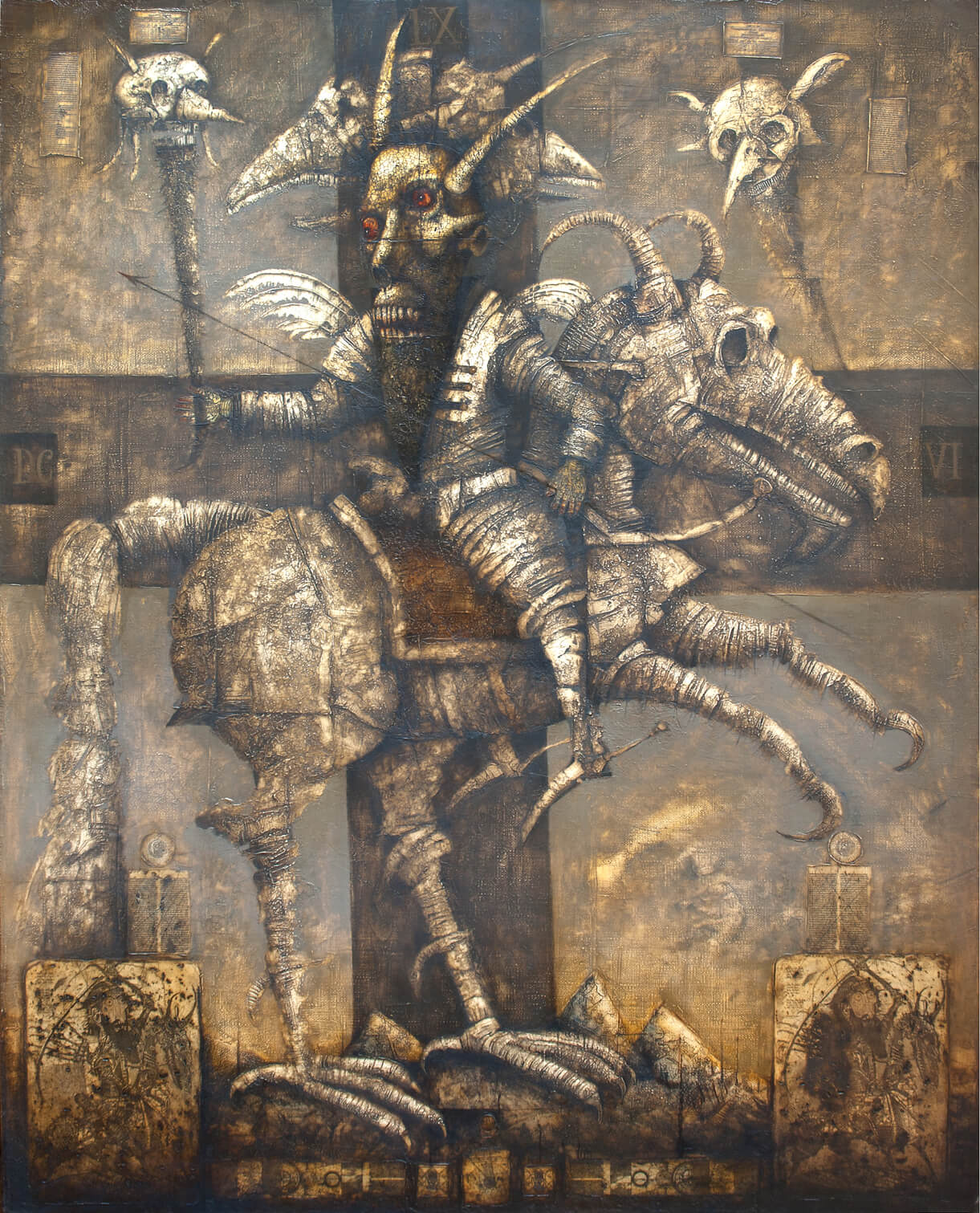 THE DARK NIGHT OF THE ARTIST'S SOUL
Oleh Denysenko was tormented by doubts yet again. What if those experiments indeed blur his artistic identity? Shouldn't he, as an intaglio artist, remain a keeper of Dürer's legacy, and not attempt da Vinci's versatility? A renowned artist was on the brink of despair...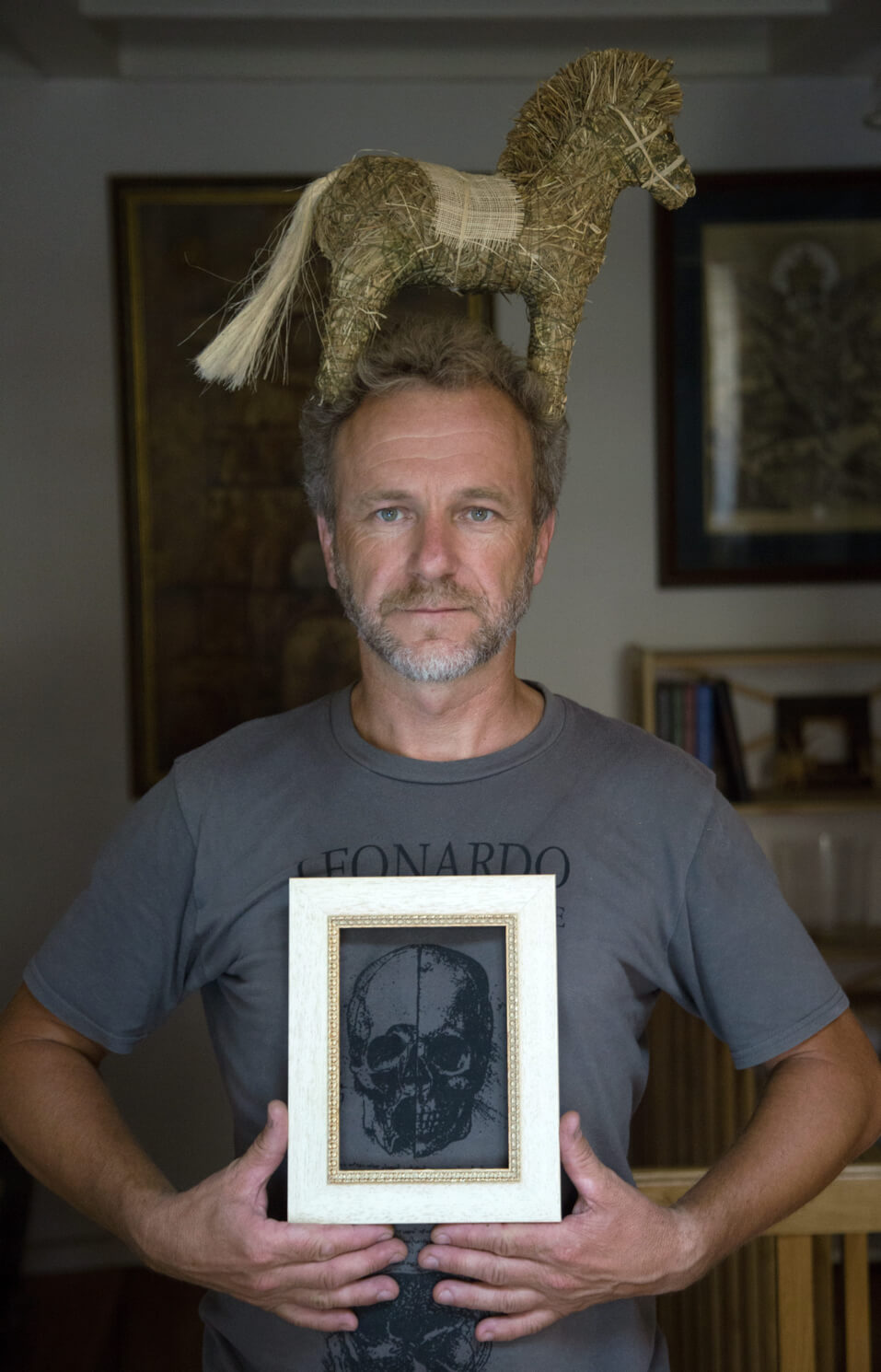 A CRY FROM THE DEPTHS:
"WHO AM I?"
This is when Oleh Denysenko had a flash of insight. He should stop wavering between Dürer and da Vinci as role models; between faithfullness to his original speciality and expansion into other genres. Instead, he must seek an authentic path of his own.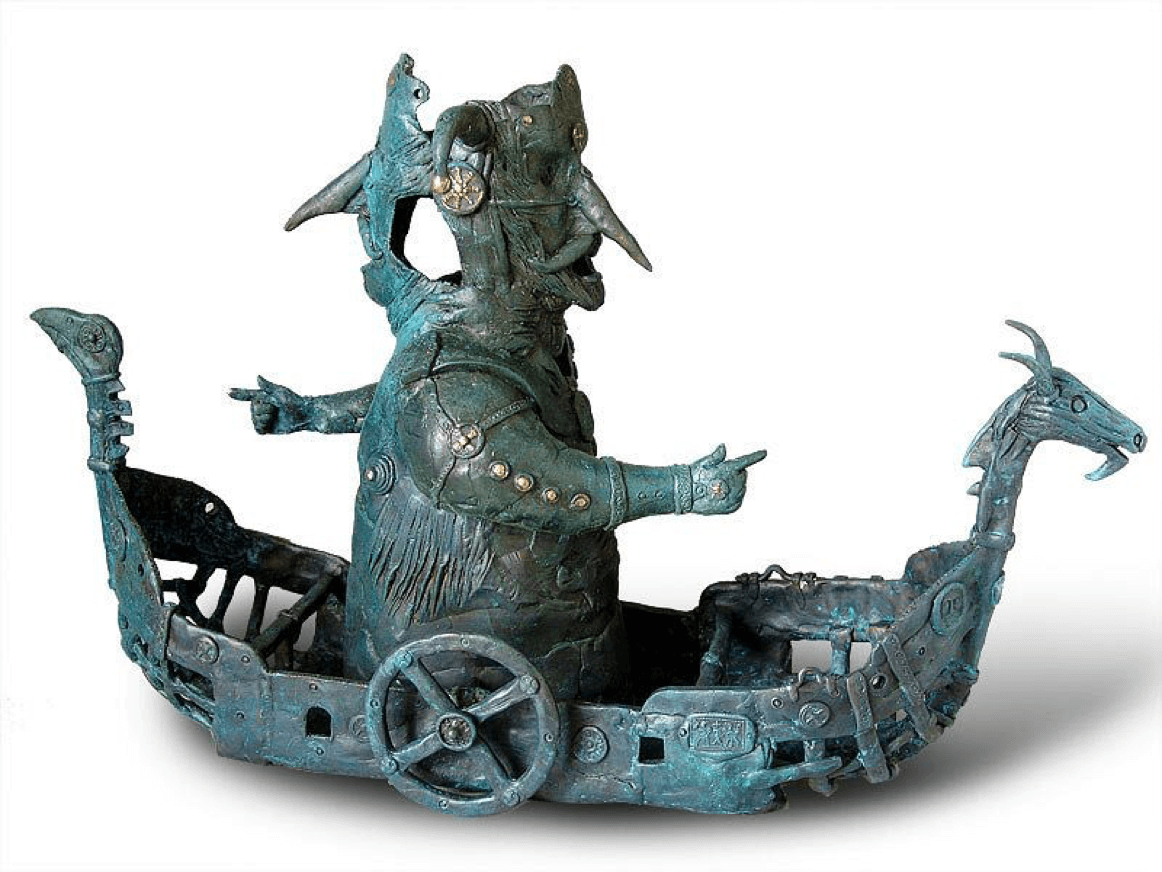 INNOVATOR OR KEEPER OF TRADITION?
That path, as conceived by the artist, could not be a break from with the rich heritage of the past; on the other hand, it had must say something in the world of art.
By then Oleh Denysenko's son, Alexander, a film director and visionary, had been for quite some time a curious observer of his father's experiments with various art techniques and their permutation. He realized that Oleh Denysenko's strong foundation in intaglio, his experience in sculpture, and his search for originality in the treatment of levkas is precisely what constitutes the basis of his genuine artistic identity.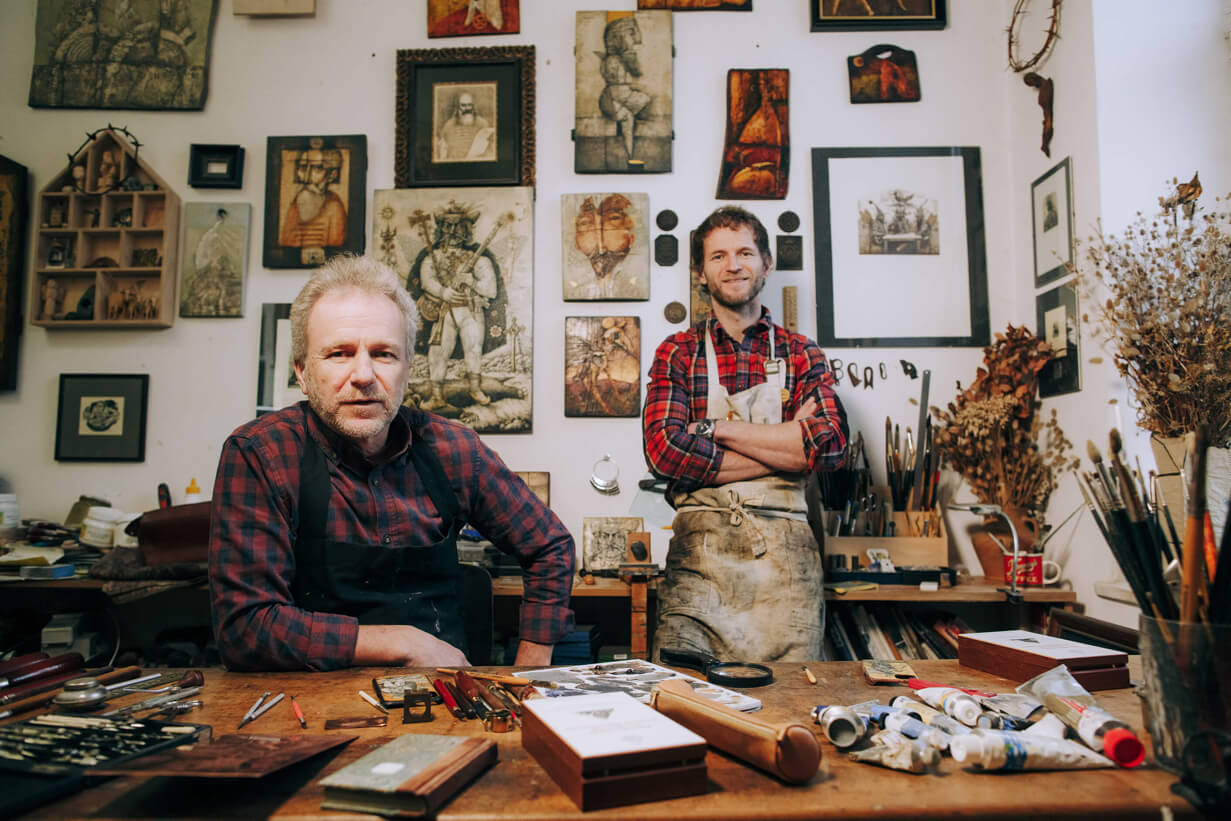 FATHER AND SON: A SYNERGY OF GENERATIONS
Alexander joined Oleh Denysenko in his experiments. It is in this strong creative tandem that the father and the son created a new form of artistic expression.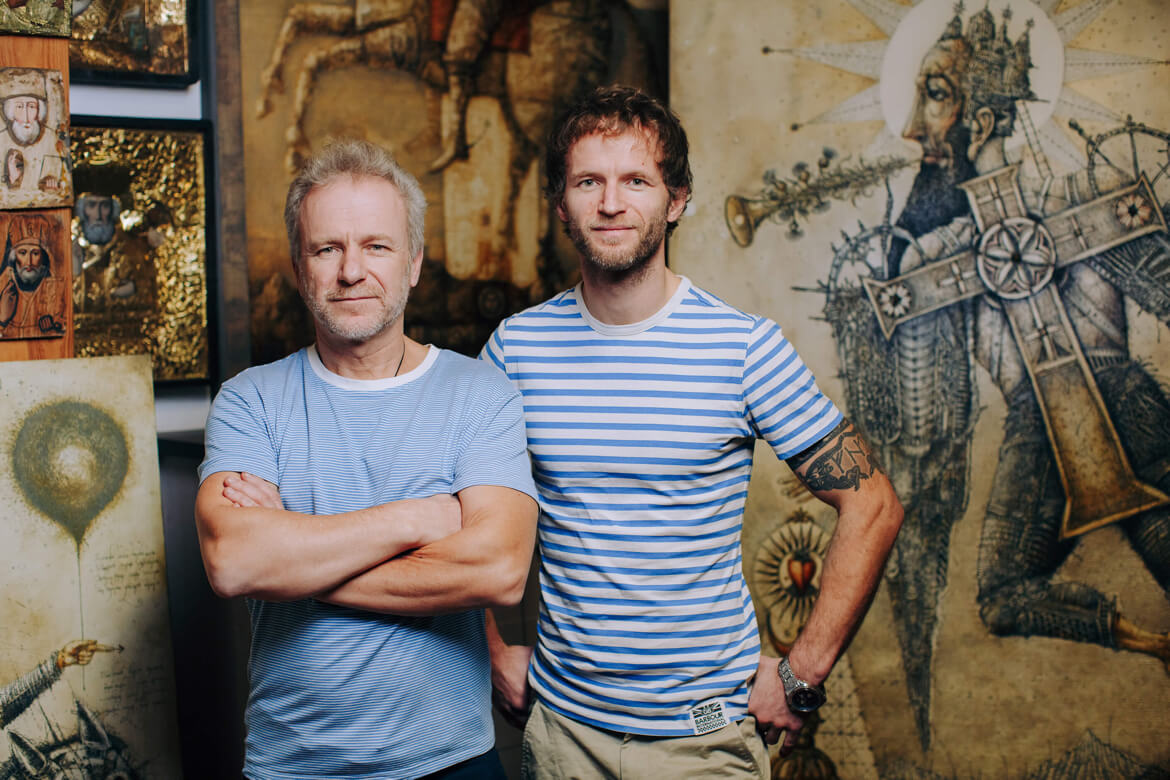 A NEW KIND OF FINE ART IS BORN
In 2020 Oleh and Alexander Denysenko held a charitable exhibition in support of talented students of the Ukrainian Catholic University in Lviv.
This is where the father and the son first presented GESSOGRAPHY – a new kind of fine arts: the synergy of color and illumination of levkases, the refinement and symbolism of intaglio, and the tangible relevance of sculpture.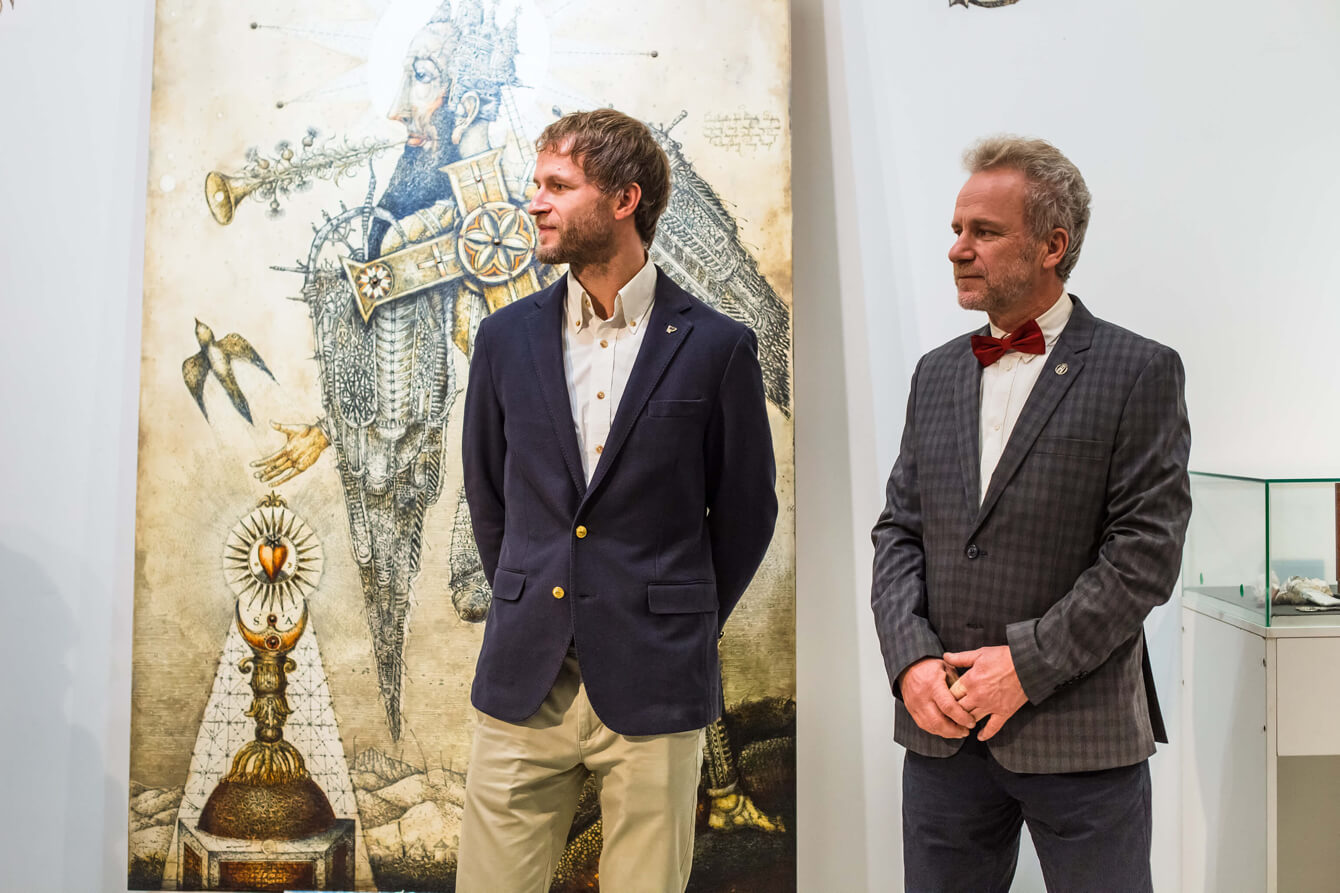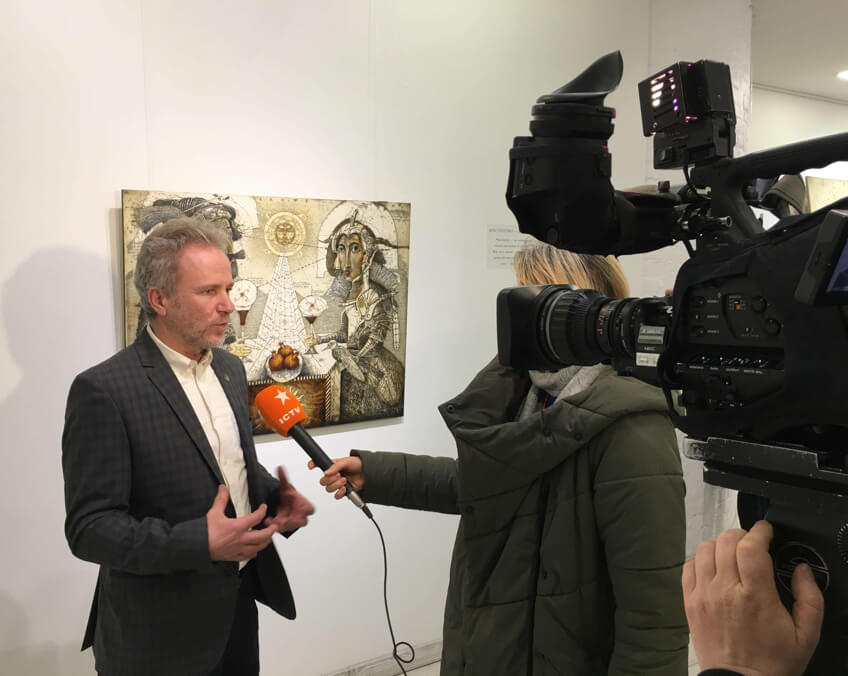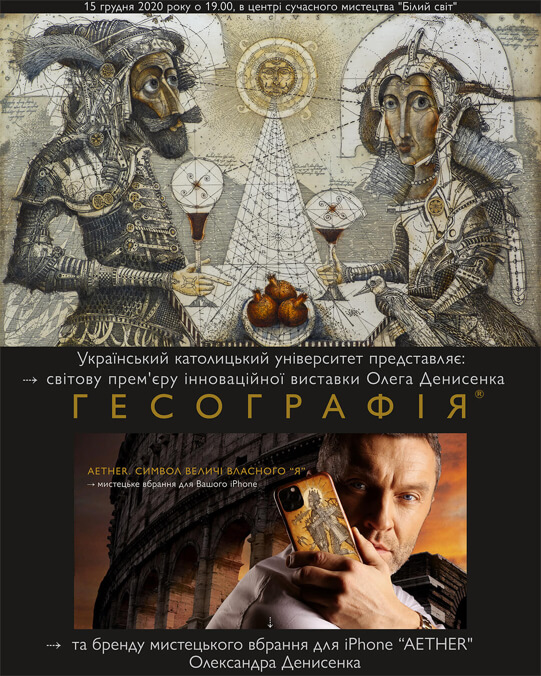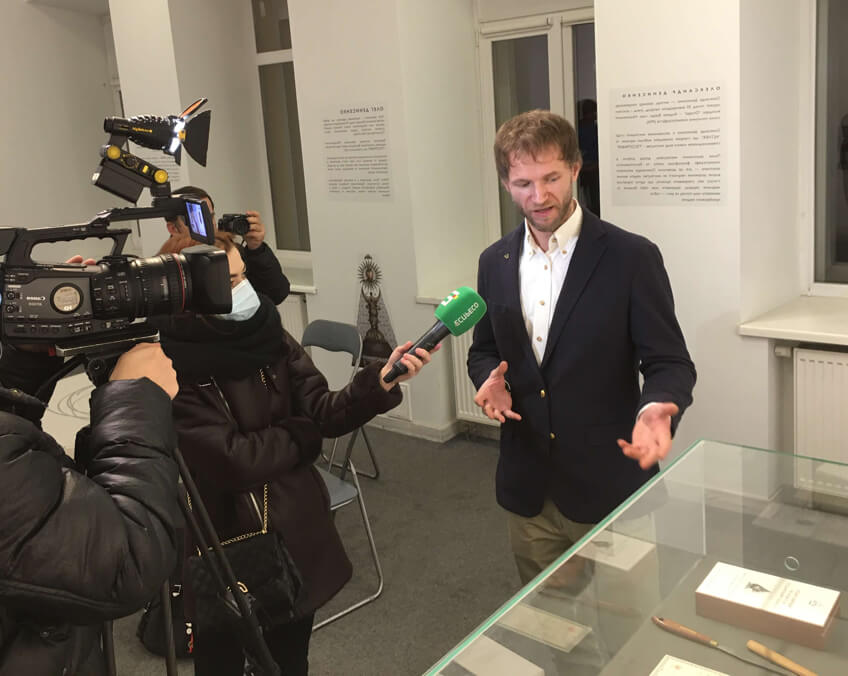 GESSOGRAPHY: A SYNERGY OF HERITAGE AND INNOVATION
As a unique artistic genre, Gessography became the quintessential component of Oleh Denysenko's art.
Its exquisite graphics abound with details and symbols, while a multi-layered relieved texture adds extra dimensions to the images illuminated by the pure whiteness of Byzantine sacred-art backgrounds.
This synergy of heritage and innovation, having reached its peak in Gessography, became a defining trait of ANTIQVITAS NOVA.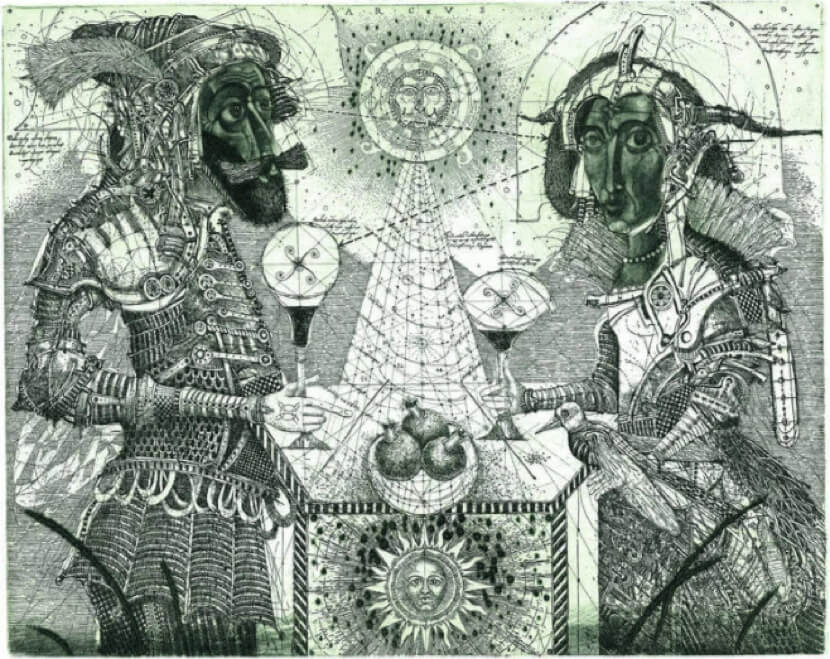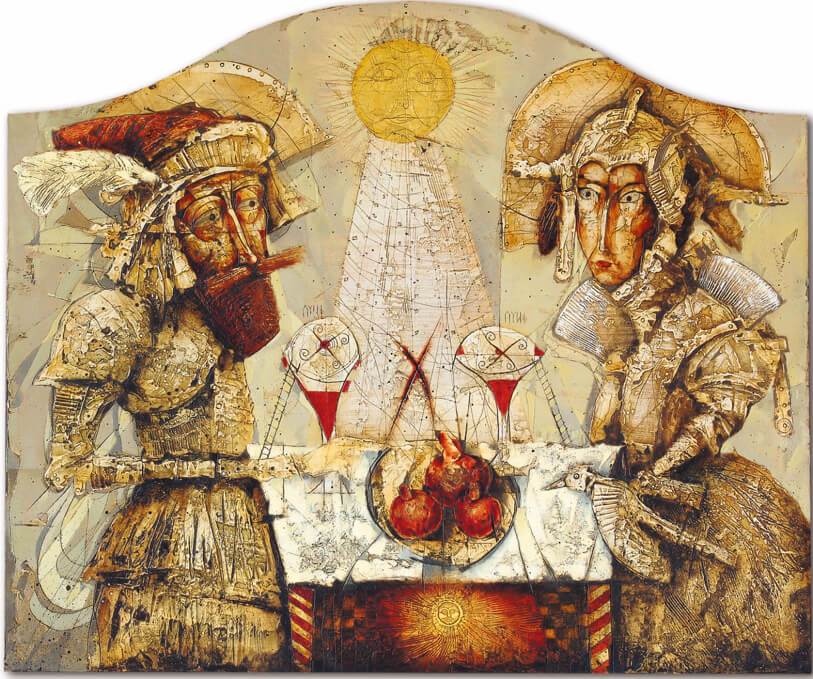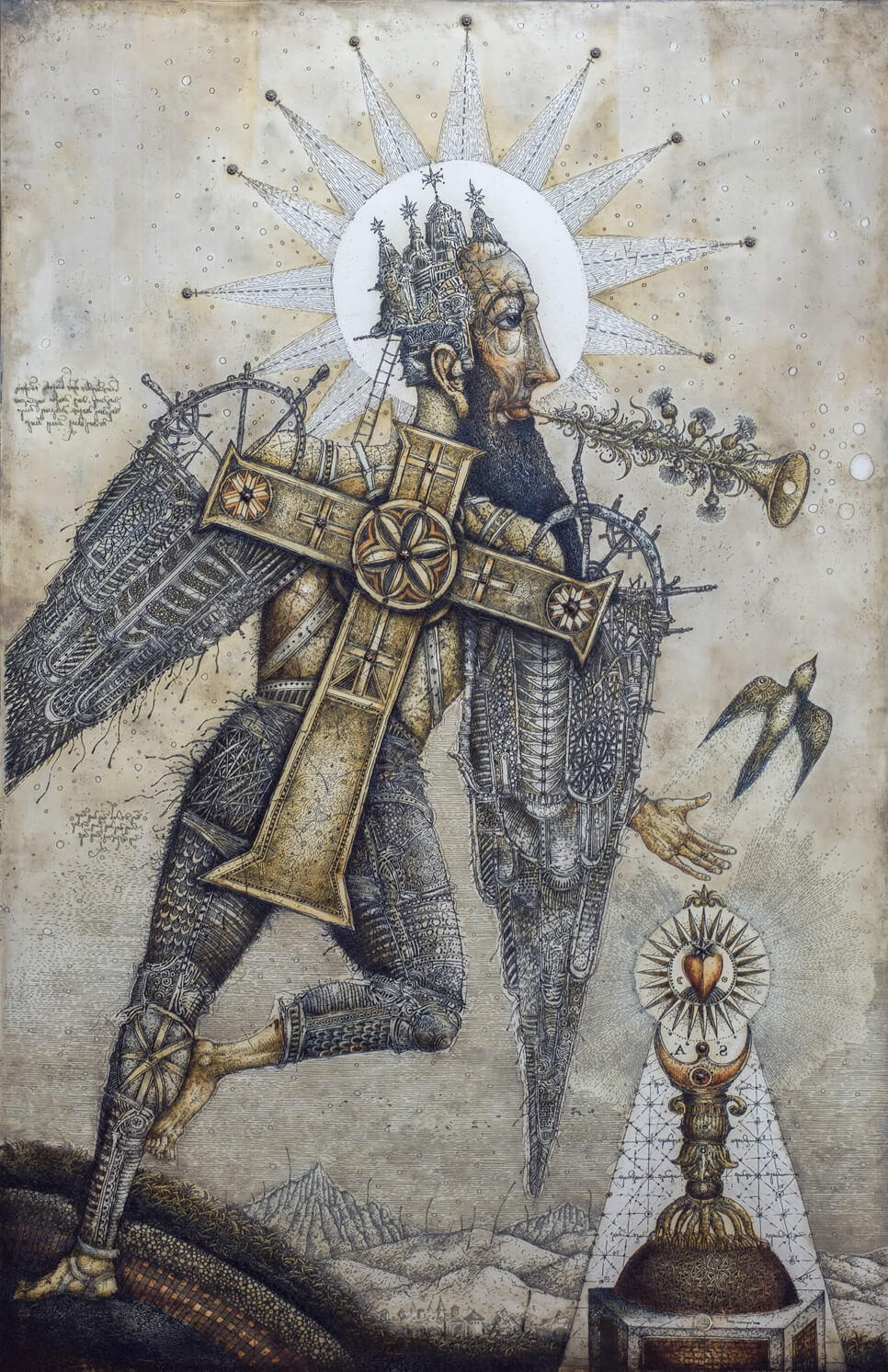 INNOVATION THAT WILL BECOME A TRADITION
Rooted in intaglio techniques such as engraving, etching, and woodcut, Gessography evolved into an art genre of its own.
An innovation created in Ukraine, Gessography is an intellectual legacy for the artists worldwide.
Future generations of artists will create masterpieces of Gessography. Gessography will become a heritage of the humankind; a tradition that will inspire new innovations.